You don't want the grass to become too tall when having a vinyl fence on your lawn. To trim it properly, make sure you're cutting along the area evenly so that none of the grass blades reaches the fence. By the end of this guide, you'll learn how to trim grass effectively without causing problems to your vinyl fence.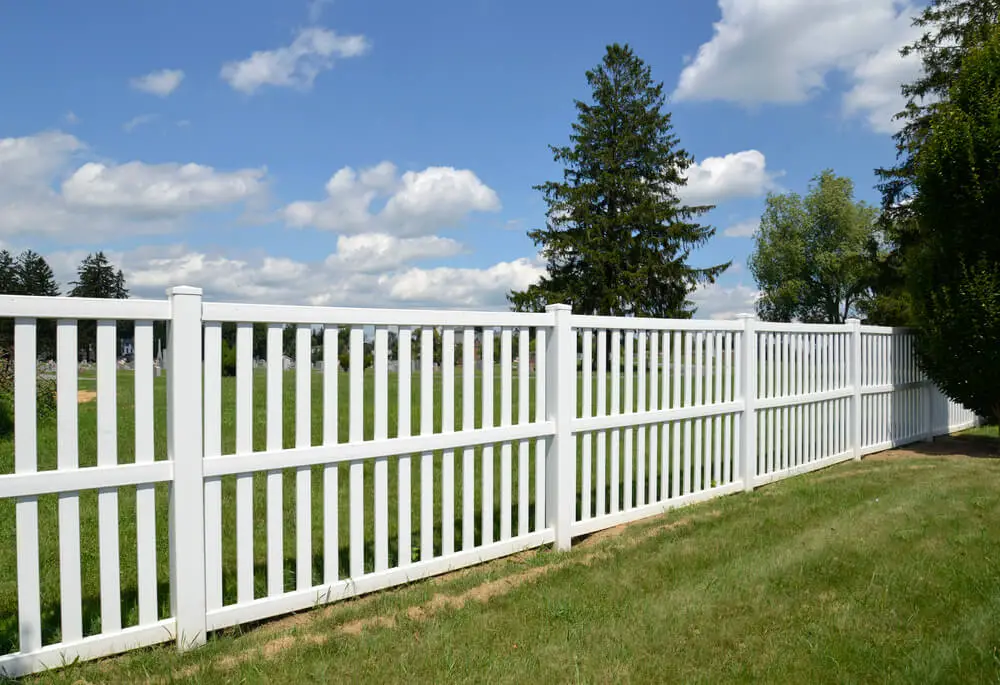 How To Trim Grass Around A Vinyl Fence
Plan the Area
You'll want to make sure that the area around your fence is measured correctly. This will help you determine what cutting tool is necessary and how many times you'll have to retrim the lawn until it is at a reasonable level.
After planning the trimming area, you'll want the right cutting tools for the job. For instance, you can use a cordless string trimmer if you have a smaller lawn and want added mobility when trimming.
Adjust the Weed Whacker Angle
Since you're cutting around a fence, you'll want to do it at an angle. This can be difficult because one small mistake will lead the string to cut through the fence wood.
If you're going to attempt this process, always trim the grass slowly. You'll need to pay serious attention to detail to ensure that this is done correctly. Once the weed whacker angle is in the right position, it will allow you to trim through the fence without spending too much time retrimming the grass.
Also, consider your trimming speed. Cutting the grass too fast will leave some added residue on your fence. When cutting, always go slow to ensure you're getting the hard-to-reach grasses lying underneath your lawn.
Improve the Bottom of Your Fence
When contractors install fences through your yard, they can leave small gaps where the weed whacker can go through. You might have difficulty removing the main posts through this method, but you'll be able to remove most of the grass with no issue.
Protect Your Fence
Through metal flashing, it prevents the lawn equipment from harming your fence.             Alternatively, you can use corrugated piping. Even if the weed whacker does hit the posts, the covering is the only one that will sustain damage. You'll be able to cut through the majority of grass with no problem.
One way to do it is by creating a protective barrier between the edge of your fence and lawn. For instance, some lawn owners will add pavement to their lawns. If the lawnmower is at the right height, you can mow through the pavement and create an appealing and healthy lawn.
Include Mulch
In addition, you could place mulch against the yard's edges or place a garden on the side areas of your yard. It makes it easier to mow your lawn's edges while enhancing its appearance.
Get a Weed Whacker
If you do not have a lawn border or you dislike the appearance, make sure you obtain a weed eater. While you should not place a weed eater directly on a fence because it will damage the vinyl, you'll get a closer cut than through a standard lawnmower.
Why should you use a weed whacker? Besides its name, it's effective at removing smaller grass areas, making it suitable for all-purpose lawn management. They can help cut lawn edges in uneven areas that your average lawnmower cannot reach.
Because of this, a grass trimmer or weed whacker will help you in fence maintenance and cutting your lawn. When used, it works by not letting the area around your fence obtain rot, mildew, or mold on the posts.
Clean the Vinyl Fence
You can clean your vinyl fence once a year. The best technique will depend on your fence's condition. You can remove dust, chalky residue, pollen, or dirt by using a garden hose to spray the fence. Or you can use a sponge mixed in water to get the additional residue off your fence.
You should use paint thinner to remove tougher stains such as grease, rubber marks, and tar. Start by wearing eye goggles and safety gloves. Next, add mineral spirits onto the cloth and wipe the fence until it is fully clean.
If the stain is on the fence, you can re-dampen the cloth and place it against the stain for around 30 seconds – 1 minute. This will give the solvent enough time to reduce the stain so it can be wiped away quickly.
Tips For Cutting Grass Around A Vinyl Fence
Adjust the mowing height before cutting grass around a vinyl fence. You can cut it through 2 – 2 ½ inches in normal climates. When you're in an area that experiences drought, you can cut the grass up to 3 inches.
Start mowing your lawn in a straight line. You'll want to move parallel from the fence to ensure that you're getting a good cut without interfering with the vinyl. Next, use a spinning line trimmer to trim the remaining weeds alongside the vinyl fence.
When using a spinning trimmer, you'll notice that it's softer than synthetic fences. This means that you can trim it along the posts. With this technique, you can also trim across grass lines.
You can place mowing borders across your fence lines to prevent weeds from getting on the corners. You can also get a mow strip fence to remove unwanted grasses.
Safety Warnings
You don't want to use hard or heavy machinery on your fence, such as lawnmowers. They will damage the plastic barriers, making them more intrusive and harmful to your fence. Use a pair of goggles if you want to be safe when moving around a vinyl fence. This ensures that the trimmed grasses don't get stuck in your eyes.
F.A.Q
How Do You Cut Grass Against A Fence?
Start by using a herbicide to kill weeds and grasses that grow along with the fencing. The chemicals are strong so make sure you follow the manufacturer's instructions to get the most out of it.
In addition, you don't want to cut the area before using the herbicide. You'll want to use the product to get the leaf surfaces to ensure thoroughly trim the grass.
You can use mulch if you want a softer, less invasive approach. This might require more work because you'll have to remove grass from your fence before applying the mulch. But it does make your garden look tidy and nice once you're finished.
If you don't like the idea of using harsh chemicals, there are other options you can use. For example, you can add brick or stone to make a border on the lawn and block weeds. You can use planters filled with flowers or potted plants to soften the hard lines.
When landscaping, you can add a flower bed to your lawn. You can go for an essential ground cover or add vegetation to have a creative backyard. This will require some preparation and planning, so make sure you speak to a local landscaping nursery before beginning your project.
How Do You Cut Grass Without Damaging The Fence?
You'll want to use a weed eater that has a line. This is better than bladed weed eaters because it's cheaper and easier to repair. To avoid damage to the fence, you'll have to trim the grass without touching it.
When using the weed eater, make sure that the trimmer is at least ½ inches from the fence post. You can shorten the bottoms of the fences by up to 3 inches so the trimmer can get under the fence.
If this is not possible, you can get an aluminum fence to protect against the lawn trimmer. You'll need patience when trimming via a chainlink fence. Trim through each fence portion to slowly remove the grass.
Avoid running the weed whacker or any trimming equipment at full throttle. This will prevent it from cutting haphazardly and damaging the fence. Cut at a slower speed to ensure none of the grass clippings become a part of the fence.
Will String Trimmer Damage Vinyl Fence?
String trimmers do have a way of damaging your vinyl fence. You'll want your fence to be approximately 3 inches from the ground as a rule of thumb. In this situation, you'll have to trim around the fence carefully without worrying about the trimmer damaging the fence.
Generally, you don't want to use these trimmers next to vinyl fences. There are some organic alternatives you can use for your fence. For example, using 20% vinegar will remove up to 12″-18″ of your lawn underneath the fence. You can do the posts with the help of shears and get a cordless shear for the smaller jobs on your property.
If you're going to use a string trimmer, start on a smaller area first. This will help by ensuring that the trimmer doesn't cause too much damage to the fence. Once you've gotten used to the trimmer, use it to organize your lawn carefully and keep the grass trimmed at least 2-3 inches tall.
Also Read
How to Decorate or Hide White Vinyl Fence
How to  Hang or Attach Things to a Vinyl Fence
How to Keep Grass from Growing on the Fence Line
How to Get Rid of Moss on Wooden Fence ( How to stop them from growing )